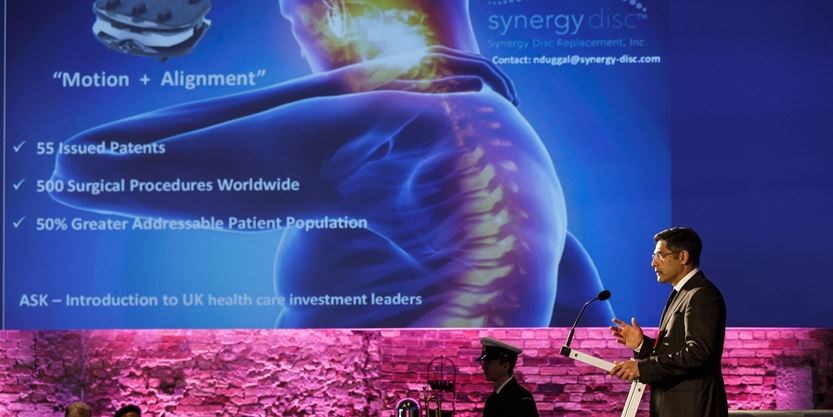 A Cambridge-based company hoping to solve the world's back problems one spine at a time is a step closer to sharing its success story on a royal stage.
Synergy Spine Solutions, which has developed a cervical disc implant to reduce back pain, is one of four startups greenlit during a qualifying round of the prestigious Pitch@Palace contest, hosted April 17 at Kitchener's Communitech.
Team leaders, neurosurgeon Dr. Neil Duggal and board chair Steve Farlow, had just three minutes to showcase the positives of their disc replacement technology in a bid to make it all the way to the ultimate pitch at St. James' Palace in London, England.
Pitch@Palace, founded by Prince Andrew, the Duke of York in 2014, offers entrepreneurs a platform to accelerate their work and connect to influencers, mentors and partners. The Rideau Hall Foundation helped bring the contest to Canada.
Though Farlow said that it was far from easy to condense groundbreaking benefits offered by the new disc implants into mere minutes, the company's pitch — presented by Duggal — had the right stuff to be a winner. Synergy Disc qualified for the national round in Toronto in late May.
The winners of that competition could advance to the Pitch@Palace finals, to compete against more than 40 entrepreneurs for opportunities to present their products to an international audience, including members of the Royal Family.
What separates Synergy Disc from the pack, maintains Farlow, is the implant technology vastly improves quality of life for those suffering from back pain challenges, a health issue that resonates with everyone.
"When we present this to investors and other people, everybody gets it because it's simple to understand, addressing serious challenges in the spine," he explained.
The discs can help eliminate pain down arms and down legs and allows people to get back to work sooner and return to normal lives, he added.
Made from titanium and ultra-high molecular weight polyethylene, the implant is particularly unique because it has the ability to restore natural motion and balance in the upper neck and lower back, while also correcting alignment — something not currently available to patients.